Meet our caring and committed professionals.
Each member of our innovative leadership team has years, if not decades, of experience in working with Assisted Living and Memory Care residents. Our team's mission is to empower individuals to live richer and fuller lives.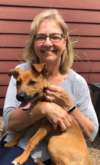 Lauren Pahnke
Executive Director
Contact: laurenpahnke@ecumen.org
Phone: 952-542-5680
Lauren joined Ecumen Centennial House leadership team in February 2020.  Lauren is responsible for our overall operations.
She has over 30 years of experience in Long Term Care, Assisted Living, and Independent Housing settings as a Social Worker and Executive Manager. Lauren has a Human Service degree and has received her LTC Administrators license.

Paige Gegner
Human Resources
Contact: paigegegner@ecumen.org
Phone: 952-658-5460
Paige joined Ecumen Centennial House in September of 2019. She previously worked as a Human Resources Generalist at a consulting company in Minneapolis. Paige earned her Bachelor's of Arts degree in Communications- Public Relations from Metropolitan State University.

Nancy Solinger
Sales and Marketing
Contact: nancysolinger@ecumen.org
Phone: 952-542-5687
Nancy joined Ecumen Centennial House in August 2016 and is responsible for Sales and Marketing. Nancy came to us from Brookdale Senior Living, where she had served as a sales and marketing manager since October 2014. Prior to that, she had been in group sales for Crowne Plaza Hotel & Suites in Bloomington. Her focus is always on building trust with families and residents as she guides them on the sometimes difficult journey into senior living as she defines their needs, wants, and expectations. She is also responsible for marketing her community in the area as she represents Ecumen Centennial House at tradeshow events and within the community. Nancy received her degree in Graphic Arts from Dakota County Technical College.

Peggy Lane
Life Enrichment Manager
Contact: peggylane@ecumen.org
Phone: 952-542-5686
Peggy joined Ecumen Centennial House's Life Enrichment Department in 2008. She is responsible for providing a well-rounded program designed to be innovative and keep abreast of the many changes in the area of therapeutic recreational activities for seniors. She is passionate about serving seniors and sharing her life enrichment experiences with the residents we serve.

Jana Gallinger, RN
Clinical Director
Contact: janagallinger@ecumen.org
Phone: 952-542-5684
Jana is the Clinical Director and is responsible for the oversight of clinical services within our community. She graduated from University of Montana and Inver Hills Community College and has worked in the healthcare field for 28 years. She has experience in many different areas of nursing ranging from hospital to home care and pediatrics to seniors. Jana joined the Ecumen Centennial House team in 2010 and considers our staff and residents part of her family.

Mike Aylward, RN
Assistant Clinical Director
Contact: mikeaylward@ecumen.org
Phone: 952-542-5682
Mike is the Assistant Clinical Director with Ecumen Centennial House since April 2020 and is responsible for assisting the Clinical Director in the operation and oversight of the clinical services within our community. He graduated from Rasmussen College in 2015 and has a Bachelor's degree in nursing with additional certification in public health.
Mike's background in medicine stretches back over 10 years from his start in the US ARMY to now, he has experience with Hospital, Long term care, Transitional/rehabilitative care and emergency/critical care medicine.
Mike considers the foundation of his practice is based on the teachings of Florence Nightingale, the founder of modern nursing practice. That is to say, Mike always tries to put himself into the situations of those he serves in order to better understand them and what they are going through.

Kevin Kincade
Maintenance Supervisor
Contact: kevinkincade@ecumen.org
Phone: 952-542-5688
Kevin was born and raised in Inver Grove Heights. After high school he went to Hennepin Technical College to get his carpentry degree. Kevin came to Centennial House from White Pine Senior living where he worked for many years.

Latoya Turner
Business Office Manager
Contact: latoyaturner@ecumen.org
Phone: 952-542-5681
Latoya has had the opportunity to work for Ecumen for over ten years now, and has a great deal of experience working in the senior living industry. She joined Ecumen Centennial House in 2016 as the Business Office Specialist, and is responsible for all things billing related. She holds a Bachelor's Degree in Business Management from Metropolitan State University. Latoya equally divides her time between Centennial House and Ecumen Seasons at Apple Valley.